Yūhei Arita

有田 雄平

Appearance
Gender
♂ Male
Hair Colour
Black
Eye Colour
Black
Personal Status
Status
Alive
Professional Status
Occupation
Student
Affiliation
School
First Appearance
Debut
Chapter 1; Episode 1
Yuhei Arita (有田 雄平 Arita Yuhei) is Utsutsu and Yume's friend at school.
Appearance
Edit
Yuhei is short in height and wears the standard uniform, which consists on a white shirt and a sweater vest.
Personality
Edit
In the manga, Yuhei is portrayed as Utsutsu's straighforward friend. He is aware that he is being abused and home, but knows he cannot do anything about it, so he remains supportive towards Utsutsu. After Yume becomes "infected" with the red butterflies and she and Utsutsu are on the run, they don't return to school.
He reappears together with Shigaraki in Chapter 25, visiting the Hasegawa household, only to realize that Utsutsu and Yume are not back yet. Upon seeing a clover field, he remembers Utsutsu's hairpin and wonders if his friend is alright wherever he is.
After Utsutsu and Yume dissintegrate into red butterflies, the butterflies reached the school where they attended. Yuhei and his friends see them and hear Utsutsu and Yume's voices. This makes Yuhei realize that Utsutsu has come back but not knowing that he and Yume had come back as butterflies.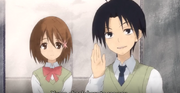 Since the anime was very short, there's not much characterization of Yuhei, only that he is Utsutsu's good friend. In the final episode, it's shown that he gave Utsutsu a ticket on the condition of getting the teddy bear for Yume, because he did not want the teddy bear.
He is currently 17 years old.
He was born on June 8th.
He is a Gemini.
His blood type is O.
He is living with his mother, younger brother and older brother.
Currently in a milk-drinking phase.
His father is a police officer.
His favorite food is Squid while his least favorite is sweet things in general.